| | |
| --- | --- |
| Posted on July 19, 2010 at 1:40 PM | |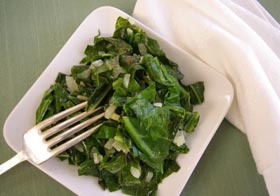 Ingredients
3 strips bacon, diced
1 medium onion, sliced
2 bunches collard greens, washed
1 tablespoon chopped garlic
1/2 teaspoon red pepper flakes
1 tablespoon brown sugar
2 tablespoons cider vinegar
Salt and freshly ground black pepper
Directions
In a high-sided skillet, cook the bacon over medium heat until brown, about 5 minutes. In the same pan add the onions and saute until translucent, about 5 minutes.
Strip the leaves from the tough stems of the collard greens. Stack the leaves, roll them up and cut them into thin strips.
To the skillet with the bacon and onions, add the garlic and red pepper flakes, brown sugar, cider vinegar, salt and pepper, to taste. Add the greens, stir and cover the skillet. Cook for 15 minutes, stirring halfway though. Collards are done when tender and no longer bitter. Remove from heat to a serving bowl. Serve the greens with the Light and Crispy Fried Chicken, if desired.
Serves four